Composition Works List
Contemporary Classical/Instrumental/Sound Installation/Interdisciplinary Works
"foggiphonie"
for ensemble and electronics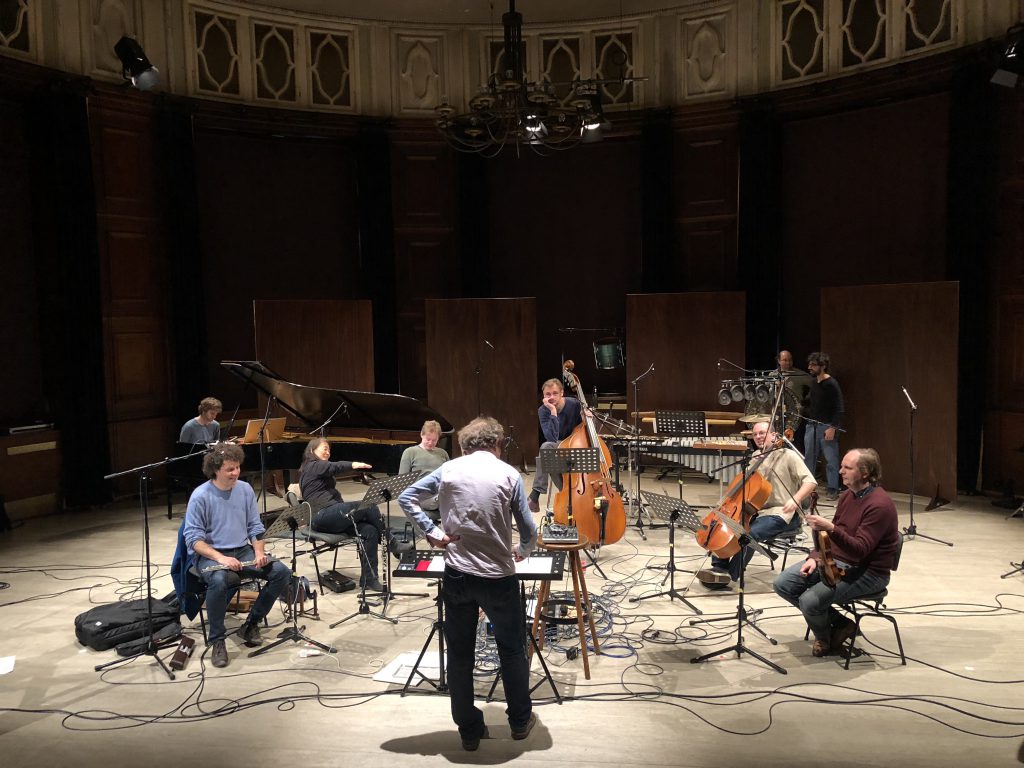 by Ensemble Phoenix Basel on 2 December 2018,
Basel, Switzerland.
I am fascinated by the gradation of a sound phenomenon transposing from a monophonic instrumental tone – a polyphonic chord and then again, to a monophonic timbre. This music starts with a single tone and gradually accumulates different tones to form a polyphonic sound until it becomes a timbral association. A chunk of tones represents sort of a tone cluster or acoustics as we are not able to distinguish individual notes anymore but listen to the whole as a single timbre. The borders of these metamorphoses are ambiguous as fog as if we do not see clear boundaries of rain, drizzle, fog, and mist, and therefore, I titled this piece "foggiphonie".
"Pentimento"
for Flute, Violin, Viola, and Cello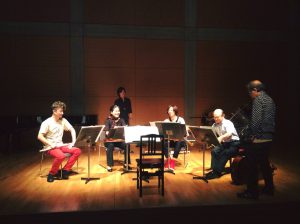 Conductor : Wiktor Kociuban
Flute : Anja Brezavscek
Violin : Momoko Kawamoto
Viola : Gulnara Tleugabylova
Violoncello : Matthieu Gutbub
Basel, Switzerland.
Japanese premiere by Ensemble Nomad
Tokyo, Japan
2017
"Ryouka -嶺谺"
for prepared piano solo
by Satoko Inoue on 30 May 2014
Goethe-Institut Hall, Tokyo, Japan
2015
Piano: Clemens Hund-Göschel
The title 'Ryouka' is a word created by myself expressing the richness of Kodama(echo) brought by towering mountain ridges.
The main inspiration to this composition is a monumental Japanese painting by the Hiroshima-born Genso Okuda, which is called 'Kourei' (red mountain ridges). Inspired by Tateyama Mountains (located in the middle of Japan), this massive and magnificent painting done with mineral pigments represents majestic rocky mountains and their valleys covered with full of autumn leaves reflecting tender light from a crescent moon. The mountains in fiery red colored by the reflection overwhelm us with a strong impression of silence, and a line of a waterfall in the middle, which is almost hidden behind leaves, certainly attracts us with its humble existence.
I found it extremely difficult to find a way to describe the mountains – it seemed that any musical representation would not perfectly fit. So I decided to focus on drawing them with the reverberation of other elements, such as the moon and its light, delicate texture of mineral pigments, graceful autumn leaves and the line of a waterfall, which I attempted to depict very carefully on a manuscript. The existence of splendid mountains only appears as resonance, which is just like they are only recognizable when the subtle light from the moon colors the leaves.